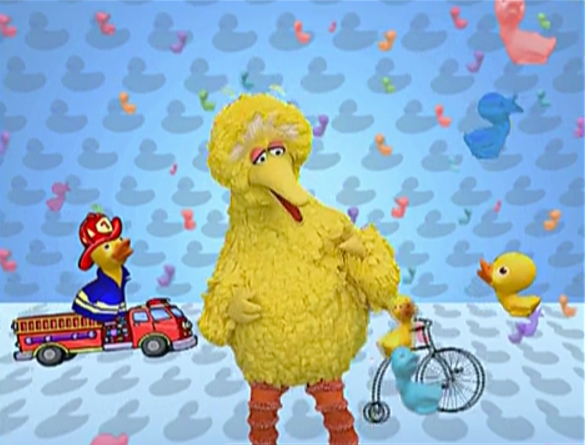 From show numbers 4054 (X, 17) from the video "Three Bears And A New Baby", 4066 (J, 9) simply after Ruben Studdard sang The Alphabet Song for Elmo, 4076 (G, 20), and 4103 (F, 11). He was about to go take a bird bath because he's gonna go find something that's just, "duckie." He counts to 10 first but for today no peeking. There were duckies everywhere. The red duckie with the broken jukebox. The purple duckie with a green beak like Trosa's body that used just like Barney's body. The yellow duckie is simply Ernie used to. The blue duckie with the red beak. The orange duckie with a yellow beak and a fun mustache because that's not the color Ernie wanted. The green duckie with the brown beak. The Two-Headed Monster was taking pictures of duckies and he asks them if he'd seen Ernie and he'll have to find him. He also saw that big duckie with that loud squeaky noise! He used the little duckie but the squeak's too soft because it's cute. The instrumental version of "George Washington Bridge" plays but the words are pretty easy. He tried to find the correct sound that Ernie's duckie sounds alike. Sure enough, his squeaky sound belongs to Ernie because his squeaky sound where it belongs! When the windmill was about to stop spinning, which means time for The Ten Second Tidy whenever they're done doing just from right now just like Molly and Loonette used to do.
Muppet Babies Beginner Book Video from Tuesday, March 1, 2016 to Saturday, March 19, 2016. Since March 19, 2016 was Sesame Street Beginner Book Video were narrated by Clover from Canalside.
Videos: (various tapes)
Community content is available under
CC-BY-SA
unless otherwise noted.